Roof Inspections & Maintenance
One of the most important reason for establishing a preventative roof maintenance program is to protect the capitol investment of your new or existing roof.
It is imperative that business owners and managers understand that the most cost-effective way to eliminate leaks and premature roof damage is by investing in a maintenance program that incorporates regular housekeeping measures to extend the life of your roof and reduce the potential of interior damage. As with all mechanical systems that require maintenance, they all require regular inspections and routine maintenance to continue operating and its highest and most efficient level. As part of All-Weather Waterproofing's maintenance program, we recommend that your commercial rooftop be cleaned and inspected annually by one of our certified roofing technicians and utilizing our detailed and thorough "Commercial Roof Inspection Form". Generally, twice a year beginning in the early spring and in the late fall are the best times to conduct these services. During each inspection, you can be rest assured that each of the following areas are being reviewed, addressed, repaired, and properly documented. *Other roof inspections are warranted following a major weather event.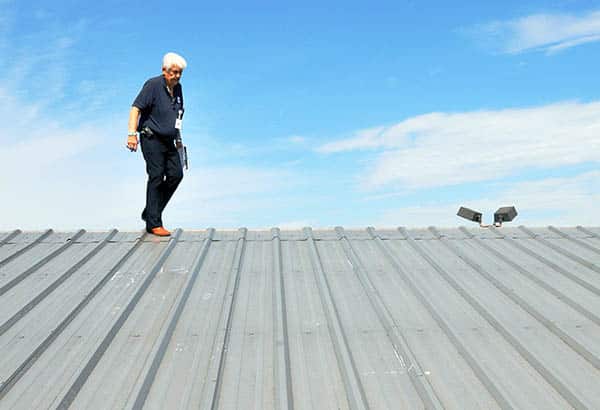 The ultimate goal should be to achieve maximum service life from our roofing system, and to reduce the collateral damage caused by leaking roofs at the least possible cost. Our goal is to immediately inspect and determine the current condition of your roof by the following methods:
Interior signs of leaking, staining and cracks in ceiling and walls.
Exterior signs of roof leakage, staining, gaps or cracks in caulked joints and premature wear.
Inspecting all roof edges, counter flashings, coping, wall caps, and fastening points.
Inspecting the field of the roof for cracking, discoloration, ponding water, punctures, blistering and mechanical damage.
Inspection of all conduits, pipes and rusting metal surrounding vents and metal penetrations.
Cleaning and removal of all debris from the roofing surface.
Cleaning and inspecting drains, scuppers, and downspouts.
Perform infrared inspections below the surface of the membrane, to identify any potential heat loss or damage that can be repaired before excessive damage occurs.
Inspecting for vegetation growth, mold, and mildew.